Hello Friends!  Welcome to the Highlights for #18 Link Party – "Turning the Daunting Into the Do-able"!  We had some great link ups this week.
First, I want to thank the people who left the sweet and thoughtful comments regarding the death of my dear, sweet mother-in-law.  We had a beautiful celebration of her life on Saturday.  She would have been pleased.  We will miss her so very much, but we know that we will one day see her again.
Now let's check out some amazing link ups!
Diane from In My Own Style added some pom poms to a throw she already had.
She has a wonderful tutorial on making the pom poms
(she makes them the way my mother does).
I love the way this turned out.
I keep looking at throws and haven't found the perfect one to add pom poms to yet!
Decorating with Barbara @ 21 Rosemary Lane made this adorable Sweetheart Paper Garland.
Barbara says that she's NOT a craft person…hmmm
she had all of the items on hand
to make this V-Day Banner….and it's ADORABLE!!
I think you would make a GREAT CRAFT PERSON Barbara!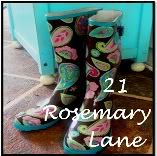 Beth from Alyssa Beth's made this cute, cute V-Day Wreath.  Guess what part came from the Dollar Store?
You'll have to head to her blog to find out!
Love the presentation Beth.
I love these blocks that Sabrina from Customized Creations made.
She has a very easy tutorial to make them!
Check out this Blue Bookcase Painting that Ann from Make the Best Of Things painted!
I just love this.  It's so different and the colors are amazing.
Head over to her blog and check out where she hung it.
I'll give you a hint… it fits right in!
This next one that I'm featuring blows my mind.  Kristy from 4 the Love of Wood knocked herself out on this piece of furniture that she BUILT and put into her foyer.
Pretty cool huh? What's so amazing about this piece of furniture?
It's made with a curtain finial, a chandelier part, a foot board,
a picture frame, stair spindles and drawer faces.
Now that's what I call AMAZING!!!!
Rachel from My Vintage Verve was a lucky girl when she got this buffet for $25!
Gorgeous after a few coats of Annie Sloan's Duck Egg Blue.
Love the detail on the door fronts.
Ready for your mouth to water??? Mrs. Happy Homemaker shared these copy cat Olive Garden Bread Sticks.
Oh goodness, I know I'm not the only one who loves
Olive Garden Bread Sticks.
Head over to her blog for the recipe!!!

This next one is gonna make you wanna slap your mama!!! (as Paula Dean says).  Whitney from Keeping Up With the Cyberts made this YUMMY
Ultimate Chocolate Caramel Pecan Pie.
This one is definitely going into my recipe box!
By the way, if I ever even thought about "slappin' my Momma",
I'd be pickin' myself up off the ground!
Kirsten from The Sweet Swiper shares this wonderful Boeuf Bourguignon Soup.
This is a Martha Stewart Recipe and she says it's delicious.
I'll need to give it a try.
I have made Boef Bourguignon for the last few years on Christmas Eve.
I've never thought about making it into a soup.

This next feature is just plain CLEVER!!! Kinda like the Post-It… you'll say, "Now, why didn't I think of that?"
Take a look at what Wendy from Her Ballistic Garden came up with!
A way to accessorize your pillow! She uses one neutral pillow and changes up the front of it.  SOOOO clever!
Head on over to her blog to check out what other interchangeable designs Wendy has made.
Ashley from It's Rustic Living shared this chest of drawers…..
I love the green and the simplicity of it.
Thank you so much everyone for linking up all of your wonderful projects!!!!
If you were featured, I'd love it if you grabbed a "featured" button!