Welcome to Link Party #16 Highlights!
I'm amazed at how many people linked up projects this week!  Where in the world are you guys getting all the energy and creativity after the holidays? Please tell me, because I really, really need some!  My creativity went right out the door with 2011!  I'm praying that I get it back…. I haven't linked up to any link parties because I have nothing!  Okay, I do have a little something that I made on my new Silhouette Cameo which I will be showing you soon!
So let's start the highlights out with some re-do and up-do furniture!
Bethany from Pitter and Glink purchased a $2 ugly brown bookshelf from a thrift store and check out what she did to it!
Love the media she used to decorate the back of the shelf.
While we are talkin' book shelves, look what Emily from Emily's Upcycled Furniture created with drawers.
I love the cleverness of this! So easy, cheap and
wouldn't it be cute in a child's room?
I guess I should give credit where credit is due….
MR. Emily came up with the idea :-)…
But Mrs. Emily put them together and painted them and did a fabulous job!
Kim from Made In A Day made this awesome Fabric Nail Head Cabinet from a cabinet she already had.
She saw a similar cabinet in a store window and knew that she could replicate it very easily…
Love the fabric Kim AND the nail heads.
This next project that Kim (another Kim) from Maidendshade created for a baby shower just makes me smile!

Is this the cutest thing you ever did see???
Doesn't it make you smile??? 🙂 🙂
She has a great tutorial to show you how she did it.
Wish I had a baby shower coming up….I'd make it!
I'm lovin' this next one.  Megan from Miss Madison's Charmed Life talked her husband into helping her make a
Tufted Rhinestone Headboard for their master bedroom.

I love the way it turned out.
Head over to her blog for an easy to follow tutorial.
Next up is the talented Andrea from The Cottage Market.  She made these Pottery Barn Knock-Off Crystal Candles.
They are so pretty and elegant and very easy to make!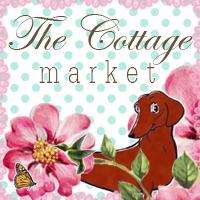 This next one is so sweet…Maysem from Odetoinspiration made this cute little girl's outfit.  She calls it Silhouette and Ruffles.
ADORABLE!
How about a little food?  Jessica from O-Alouette shared the recipe for these Chicken Pockets.
These looked so good to me and definitely a crowd pleaser for the family.
Quick and easy too!
Thanks so much everyone for linking up your awesome projects!
If you'd like, grab a featured button.