I'm re-posting my pink pumpkins that I made last year.  They ended up being my most popular post!  Hope you enjoy.
If you are looking for Link Party #42
CLICK HERE
Did you know that October is Breast Cancer Awareness month?
 I can say (pretty much without a doubt) that everyone knows someone who has been affected by breast cancer or has battled this beast themselves. I lost my grandmother 19 years ago to breast cancer. I often wonder if she would have lived longer (and more comfortably) if we had the technology that we have today.
I believe  every woman in this nation wonders if they will be the "1 out of 8" diagnosed with breast cancer.  I had a scare myself 6 years ago.  I've always been very diligent about doing my self exam…one morning I found a little tiny lump.  Talk about freaked out.  I was lucky I was able to get into an oncologist very quickly (my husband was able to make a few calls).  After a thorough examination, the doctor felt that it was a benign cyst.  Sure enough, within a few months it was gone.
Reflecting on the moment that I felt that cyst…from the time I shut off the water in the shower to finishing drying off,  I felt my life had changed completely.  In a matter of moments, I thought of my children, chemo therapy, etc., etc., I was the "1 out of the 8".
If you are a breast cancer survivor, my heart goes out to you.  You live a sweet life every day and I bet you do not take one thing for granted.  You are blessed…. I pray that the rest of us (the 7 out of the 8) can value life as much as I know that you value you yours…I pray that we take nothing for granted, live in the moment, and realize that life is a journey and we must savor the sweet moments along the way.
So, guess what?  Did you know that PINK is the new orange this month? Yup, it is! How fun is that? You know what that means? Yup…PINK PUMPKINS!
Here are mine:
These were sooooo much fun to make!
Blog friends, I challenge each and everyone of you to make a pink pumpkin this year!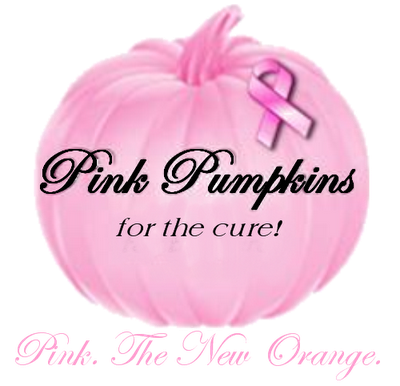 Materials I used for pumpkins:
Martha Stewart Craft Paint (Pink Taffeta Pearl and Amaranth Satin)
Ribbon
Straight Pins
Breast Cancer Ribbon Stickers (I found them at Michael's) and I painted them a darker pink
Glitter
Glue
Here are the Link Parties I'm attending:

Strut Your Stuff Saturday @ Six Sister's Stuff
Scrappy Saturdays @ Candace's Creations
Scrappy Saturdays @ A Vision to Remember
Think Pink Sunday @Flamingo Toes
Sunday Showcase @ Under the Table Dreaming
Just Something I Whipped Up @ The Girl Creative
Sundae Scoop @ I Heart Nap Time
Nifty Thrifty Sunday @ Nifty Thrifty Things
Creative Blogger's Party Hop @ Homemaker on a Dime
Strut Your Stuff Sunday @ J and M's Eye Candy
Twice Owned Tuesday @ Creating a House of Grace
Tuesdays Treasures @ My Uncommon Slice of Suburbia
Trash to Treasure Tuesday @ Sassy Sites
So Creative Party @ So Very Creative
One Project At A Time @ A Bowl Full Of Lemons
Tutorials and Tips Tuesday @ Home Stories A to Z
Running With Glitter Link Party @ Running With Glitter
Topsy Turvy Tuesdays @ I'm Topsy Turvy
Tuesday Talent Show @ Chef In Training.blogspot.com
Creative Link Party @ Today's Creative Blog
Who's Got Talent @ Night Owl Crafting
A Little Birdie Told Me  Tuesday @ Rook No 17
Tuesday Confessional @ Crafty Confessions
Lil' Luna Link Par-tay @ Lil Luna
5 Minutes Just For Me
Tutorial Tuesday @ Hope Studios
Terrific Under Ten Tuesday @ At Home With K
Recreate Into Something New @ Not So Simple Housewife
Tuesday {Ten} @ Under The Table Dreaming
Whatever Wednesday @ Momma Hen's Coop
Whatever Goes Wednesday @ Someday Crafts
Share the Love Wednesday @ Verry Merry Vintage Style
Blue Cricket Show and Tell @ Blue Cricket Design
Home Décor and Organizing Link Party @ Organize Your Stuff Now
Create and Share @ The Trendy Treehouse
Anything Goes @  Type A Decorating
Piece of Work Wednesday Furniture Party @ Prim and Proper
Share Your Awesomeness @ Thirty Sixth Avenue
Wow Me Wednesday @ Gingersnap Crafts
Your Whims Wednesday @ My Girlish Whims
Look What I Made @  Creations By Kara
What I Made Wednesday @ Sweet Peas and Bumble Bees
Show and Share @ Southern Lovely
Re-Create Into Something New @ Not So Simple Housewife
Pinkolicious Thursday @ Frugalicious Me
Restored it Wednesday @ Restore Interiors
What's Up Wednesday @ Sew Woodsy
Would You Buy It Wednesday @ Junker Newbie
Time to Shine @ A Diamond In the Stuff
Show Me What You Got @ Not Just A Housewife
Whatever Wednesday @ Momma Hen's Coop
A Crafty Soiree @ Yesterday On Tuesday
Strut Your Stuff Link Party @ Some What Simple
It's a Party @ Creative Princess
Thrifty Thursday Blog Hop @ Saved By Love Creations
Thrifty Thursday Link Party @ Thrifty and Fabuless
Open House Linky Party @ No Minimalist Here
Thrifty Thursday @ Thrifty Decorating with Nikki
Hookin Up with HoH @ House of Hepworths
Creative Juice Link Up @ Momnivores-Dilemma
Everything But The Kitchen Sink @ A Little Knick Knack
Show Off Your Stuff Party @ Fireflies and Jellybeans
Fab Friday Link Par-Tay @ Faith, Trust and Pixie Dust
Delightfully Inspiring Thursday @ Delightful Order
Furniture Feature Friday @ Miss Mustard Seed
Flaunt It Friday @ Chic On a Shoestring
Friday Unfolded @ Stuff and Nonsense
Boost My Blog Friday @ Design It Chic
Feature Yourself Friday @ Fingerprints On the Fridge
Feathered Nest Friday @ French Country Cottage
Potpourri Friday @ Twenty-Eight-0-Five
Show and Tell Friday @ Romantic Home
Tickled Pink Friday @ 504 Main
Frugal Friday @ Shabby Nest
BFF Open House Link Party @ Answer Is Chocolate
Delicately Constructed Friday @ Delicate Construction
Themed Link Party @ Funky Junk Interiors
Strut Your Stuff Saturday @ Six Sister's Stuff
Scrappy Saturdays @ Candace's Creations
Scrappy Saturdays @ A Vision to Remember
Think Pink Sunday @Flamingo Toes
Sunday Showcase @ Under the Table Dreaming
Just Something I Whipped Up @ The Girl Creative
Sundae Scoop @ I Heart Nap Time
Nifty Thrifty Sunday @ Nifty Thrifty Things
Creative Bloggers Party Hop @ Homemaker on a Dime
Strut Your Stuff Sunday @ J and M's Eye Candy
Pink Saturday @ How Sweet the Sound