I hope that everyone had a wonderful weekend!  Our weather here in California has been amazing the past few days.  I took advantage of the great weather (perfect temperature to paint!) and worked on the baby nursery dresser.
I went to bible study this morning, then for a nice long walk with my BFF (we solved all the world problems).  I had planned on coming back and finishing up the nursery dresser.
Later in the afternoon, I was sitting at the kitchen table eating a quick lunch and I heard a big BAM coming from the garage.  When hubby came home and checked it out, he told me the cable had broken.  Has anyone ever experienced this?  My goodness, it sounds like someone ran right into your garage door…. I'm glad I wasn't out there.  Anyway, the dresser is right up against the garage door and now I can't get to it because we can't get the garage door open! Someone is coming out tomorrow to fix it. Yay!
So, instead of painting, I'm gonna get these highlights up sooner than I thought!  I love seeing all of the projects that are shared (I know I say the same thing every time), but, I have to be honest… I don't like having to pick and choose which ones I want to highlight.  Some are "no brainer's" where you just think, "WOW, how in the world did she ever think of doing that?"  Then you have the ones that are "AMAZING"…. I'm not sure how to get around all of this… I do want to highlight features (who doesn't want to be a feature?… I know I love it when my projects are featured!)… so, until I figure something out… let's just keep going with the way I've been doing it for the past 23 times! Can you believe it's been 23 times??? Oh, time flies while we are bloggin'!
Kristy from 4 The Love Of Wood did an amazing, re-vamp of this cabinet for her friend, Heather.
The graphics she chose for this primitive cabinet are perfect!
Ashley from It's Rustic Living made this adorable "Where He and She Became We" pillow.
Sh  plans on selling them soon!
Ashley has a few other styles that she designed on her blog.
You'll have to head over to see them.
Emily from 52 Mantels is in the process of designing her craft room.  This is one amazing project that is going in her craft room.
She will be tantalizing us with more projects before she does the "big reveal".
I can't wait!
Peggy from
The Painted Pear
found a tea tin that she turned into a Dog Food Tin.
Gotta love that chalkboard paint!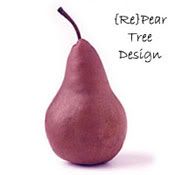 Kaylee from Couponing and Cooking shared these YUMMY Smore Krispy Treats.
Catherine from Freddy and Petunia is one of those women who can look at a piece of furniture and see it in a completely different way.  This was a king size headboard and 2 chairs that she turned into a bench for her mother's banquet table.
Here it is with the glass and the pedestal table that she put together.
BE-U-TI-FUL
 There are more detailed pictures on Catherine's Blog.
Barb from Turtles and Tails added some twine to her Ikea chairs.
This is such a fabulous idea!!! So easy and such an impact.
LOVE IT!
 Kathryn from Ugly Duckling Transformations shared these lumbar burlap pillows.
They turned out great.
I ♥ burlap pillows and I don't have a single one.
What's up with that?
Ann from Make the Best Of Things shared some of her Book Page Crafts.
 She has taken pictures of several projects
(the clock and the star are just a few)
that are displayed in her craft room.
Boy, what a craft room Ann has!
Yes, I'm featuring yet another baked goodie that Kirsten from the Sweet Swiper!  Oscar Worthy Bars!
These look simply amazing.
Definitely going into my recipe file!
I would make these  right now if I hadn't eaten a whole box of Samoa's today!
Those DARN GIRL SCOUTS 🙂
Thank you, thank you, thank you EVERYONE for sharing your projects!!!
Grab a button please if you have been featured.
Ready to share your project at Link Party #24?