Here we are folks! I'm posting Link Party #21 Highlights early… a whole day early!!! I'm heading to my daughter's tomorrow to help her paint her kitchen and to see my sweet grandsons. My car is loaded down with a chalkboard I made, a chandelier I refurbished, material for curtains… it's going to be a fun and crazy next couple of days. I will be sure and take lots of pictures so you can follow along with me.
Update on Baby Giata's Nursery will be in a post next week!
Don't forget to enter the AMAZING NEST OF POSIES GIVEAWAY I have going on!!! The winner will receive a jute tote bag, monogrammed (winner's choice) and 6-8 felt flowers (they are adorable). Easy to enter! You can check it out HERE.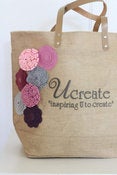 I will be posting the party tomorrow night! Oh heck, I might as well do it tonight. Scroll to the bottom and link up!
I'm lovin' this first project. Never in a million years would I have thought to do this….
Monica from Store House Wife did a Ceiling Fan Upcycle!

This inspires me to do a few fans in our house!
Loren from Pandora's Craft Box upholstered this beautiful Black and White Chair.
Actually, I should say Loren and her HUSBAND did this project together!
Beautiful!!
Yes, they are still married :-).
Shannon from Vintage Re-Styled turned a dresser into a Media Console.
LOVE the vintage blue!
Crystal from Mrs. Happy Homemaker made these delicious Blueberries and Cream Oat Bars.
Add a nice cup of java and life couldn't be sweeter.
Gwen from The Bold Adobe put together this adorable Curly Swirly Fleur De Lis Coat Rack.
Turned out awesome Gwen!!!
Julie from Knot All That I Seam made her own DIY NO COST Wire Cutlery Holder.
I see these everywhere.
Love how Julie put this one together.
Jill from Jillify It did a Table Makeover on the brown tables in her craft room.
LOVE the polka dots!
Stephanie from the Lady With the Red Rocker made this YUMMY, gorgeous cake with 2 ingredients!
You'll have to head over to Julie's blog to find out what they are!!!
If you were featured tonight, I'd love it if you grabbed a feature button.

Ready to share a daunting job and show us how you made it do-able?  Well, we would LOVE to see it.
Click HERE for Link Party #22